May 2020
This year was a busy year in the SNE lab! Continuing on with our research studies, our wonderful and resilient research assistants worked with over 400 participants in the past year.  We began our very first clinical trial and our fourth-year neuroendocrinology methods class designed and developed a study testing how changes in testosterone affect our will to win in competitions (and compete again!).  Of course, the semester did not end as we had planned!  We are looking forward to when we can resume our work, but until then it seemed like a good time to finish some papers and update our website! The 2019-2020 year was a memorable one, so stay tuned for another update soon on our graduating thesis students and other exciting announcements! Stay safe!
June 2019
Congratulations to our graduating class of 2019. These 5 individuals were amazing thesis students with wonderfully bright futures ahead of them. Caelan has moved onto an accelerated Mental Health and Addictions Counselling Program at Canadore College. Jessica will be completed a Graduate Certificate in Addictions and Mental Health at Durham College. Jordan is embarking on a Masters of Arts in School and Clinical Child Psychology at the Ontario Institute for Studies in Education at the University of Toronto. She will be doing her research in suicide and violence prevention and mental health promotion in Indigenous populations with Dr.Jeffrey Ansloos. Nadia will be attending Laurentian to complete the Psychology Graduate Program in the Applied (Clinical) Stream. Rachel is starting a two year Masters of Teaching at the University of Toronto with goals of pursuing teaching at the primary junior level. The SNE lab is extremely proud of all your work and amazing accomplishments. – Triana and Justin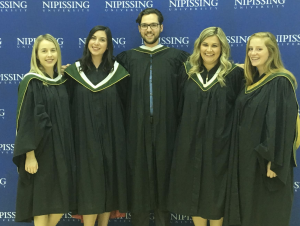 February 2019
Congratulations to one of our thesis students, Jordan, on her acceptance to the University of Toronto for a Masters in Clinical Psychology! We are all so very proud of you and wish you luck with the new opportunity come the new school year.
January 2019
Welcome back to the lab V! We are so happy to have you working in the lab once more. Thank you for always being a dedicated member of our team. You can find V at our reception desk as our new Research Clerk.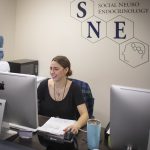 October 2018
Thank you Charlotte Miller, our current recruiter, for spearheading our Halloween costume/lab decor competition. We made for some very impressive "Mad Scientist's" and definitely put on a great show. Thank you to the students who also helped with decor and the presentation.
August 2018
A huge congratulations to Dr. Justin Carré on his new position as Assistant Dean of Graduate Studies and Research. Read the news report here.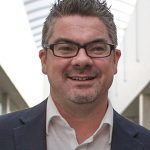 July 2018 
Way to go Brittney, Nicole, and Triana for their outstanding presentations at the 9th Annual International Congress of Neuroendocrinology. Your research was well received and represented both Nipissing and the SNE lab wonderfully.
April 2018. 
Congratulations to the SNE graduates this year who have completed their thesis projects, and are on to bigger and better things.
March 2018. 
Huge thank you to our SNE students who represented our lab at the Nipissing University Undergraduate Research Conference. Special shout out to Nicole, Brittney, and Charlotte for being amongst the best poster presentation winners.
February 2018.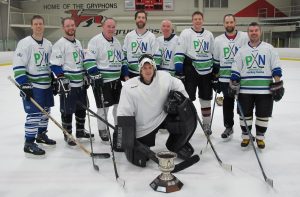 This is the 41st annual University of Guelph Faculty/Staff Hockey Tournament. The tournament consistent of 6 teams (University of Guelph, Nipissing University, McMaster University, University of Waterloo, Wilfred Laurier University, University of Western Ontario).  Nipissing University won all 5 of their games to take home the championship despite only having 8 players and a goalie on their roster. Congratulations to Dr.Carré and the rest of the team.
January 2018. 
Happy 1 year anniversary to the new SNE lab! This past year in our new location has been our most productive year yet. If you haven't come by to see the new beautiful space, make sure to do so. We promise you will be impressed.
August 2017.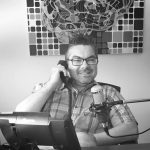 Congratulations Justin on being a guest speaker on NPR (National Public Radio) with correspondent Dina Temple-Raston discussing adolescent brain development and what impact it has on making poor choices for a new podcast series coming this fall.
July 2017.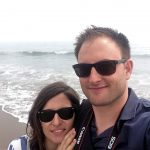 Our lab would like to extend a warm welcome to the newest additions to our lab. Welcome Valentina Proietti, a new postdoctoral fellow, and Shawn Geniole, a visiting Banting Postdoctoral Research Fellow.
April 2017. 
Thank you to those who could make it to our end of the year party. Here are some photos from the Eye Spy tournament hosted by the one and only Alexi.
March 2017. 
Congratulations to the SNE lab for being featured on CTV News and BayToday for our outstanding research and new facility. Check out the video and article below.
February 2017. 
Congratulations to Emily Jeanneault on being accepted to a Masters of Arts in Applied Psychology at Cork University in IRELAND!!!!!
January 2017. 
New Year, NEW LAB! Here are some photos of the lab in its final stages of preparation.
December 2016. 
Thank you to everyone who came out to our SNE lab Christmas party. What a great turn out! Congrats Rachel on winning the pipette tip tournament and Triana for a close second.
Pipette Tournament!
September 2016.
New paper published! Congratulations everyone on the Exogenous Testosterone Rapidly Increases Aggressive Behavior in Dominant and Impulsive Men paper.
August 2016. 
Way to go Brian Bird for an awesome job presenting your poster at the Society for Behavioral Neuroendocrinology conference!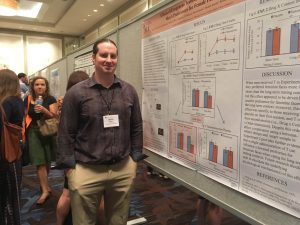 June 2016. 
Thank you Amber, Nathan, Erika and Taylor-Rae for representing the SNE lab at the Canadian Society for Brain, Behaviour and Cognitive Science (CSBBCS) conference in Ottawa this past weekend. Special recognition to Erika and Taylor-Rae for winning Best Poster!
June 2016. 
Congratulations Brian Bird on a successful Master thesis defence!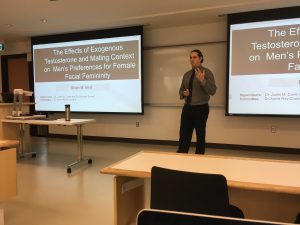 June 2016. 
Congratulations to three of our lab members for being apart of Nipissing's 2016 graduating class.
Amber Videto, Hons BA with Specialization in Psychology and minor in Anthropology
Nathan Olmstead, Hons BA, Double Major in Psychology and Religion and Cultures,
Meghan McLaren, Hons BA, Double Major in Psychology and English (not pictured)
May 2016. 
Huge congratulations to Dr. Carré for receiving the Chancellor's Award for Excellence in Research for 2015/16!!!
Note from students: SNE Lab is very excited to announce that our fearless laboratory director, Dr. Carré, has recently received the Chancellor's Award for Excellence in Research at Nipissing University! We are all incredibly proud to be supervised by such an intelligent man, dedicated mentor, and prolific researcher at our institution. Dr. Carré's dedication to research excellence is something that we all aspire to, and we could not be more pleased that this passion and associated contributions to our understanding of social neuroendocrinology have been formally recognized by Nipissing University! A big congratulations to Dr. Carré on a well-deserved accomplishment!
April 2016. 
Congrats to several of our students who are moving on to graduate school and/or college next year!
Brian Bird – Ph.D. in Clinical Psychology at Simon Fraser University
Nathan Olmstead – MA in Interdisciplinary Studies at Brock University
Zachary Root – MSc In Kinesiololgy at Brock University
Amber Videto – Human Resources (accepted at Cambrian and Georgian)
April 2016.
Congratulations to all the lab members who presented their thesis projects at the Undergraduate Research Conference and a special shout out to Erika Ruddick and  Nathan Olmstead for winning best poster.
February 2016. Congratulations to Justin Carré for being featured for his research on the Nipissing News Room bulletin. Here is the link to the blurb.
NU research into male aggression and misread emotions
January 2016. Congratulations to Justin Carré for being a speaker at the Social Neuroendocrinology Pre-Conference associated with the Society for Personality and Social Psychology conference in San Diego.
October 21, 2015. Congratulations to Justin Carré on receiving the SSHRC grant!
September 7, 2015. Congratulations to Triana Ortiz and Brandy Labine for publishing their first paper titled "Digit ratio (2D:4D) and psychopathic traits moderate the effect ofexogenous testosterone on socio-cognitive processes in men" published in the journal Psychoneuroendocrinology
September, 2015. Congratulations to lab alumni, Rachel Norman on the new job position as the Introduction to Psychology lab instructor. We know you'll be a great teacher and the students will love you.
September, 2015. Congratulations to previous lab manager Ben on his start to medical school! You'll make a wonderful doctor some day. Here are some photos from Ben's going away party!
June 17, 2015. Congratulations to Justin Carre for being a speaker at the Adapted mind and Adapted Body: the Evolution of Human Behavior and its Neuroendocrine Regulation in Erice, Sicily and to Triana Ortiz for presenting her thesis work at the poster presentations. Here are some photos from the trip.
December 19, 2014. Congratulations to Triana Ortiz for winning the Wendy Jackson Memorial Scholarship which is awarded to a student that has demonstrated outstanding research productivity and is deemed most deserving by the Psychology Department.
November 6th, 2014. The Laboratory of Social Neuroendocrinology published a new paper titled  "Trait anxiety moderates the relationship between testosterone responses to competition and aggressive behavior" in the journal Adaptive Human Behavior and Physiology.  Congrats to Rachel Norman (Nipissing University grad) – this is her first lead author publication! In two studies, we found that a rise in testosterone during competition was positively correlated with subsequent aggressive behaviour, but only in men who scored low on a measure of trait anxiety.
November, 2014. Congratulations to Dr. Carré for being recognized for his ground breaking research here at Nipissing University. Watch the CTV news interview below.
June 26th, 2014. Dr. Carré was awarded a Natural Sciences and Engineering Research Council of Canada (NSERC) Discovery Grant for his research program titled "The social neuroendocrinology of human aggression".
June 11th, 2014. Congrats to Colton Baird-Rowe (3rd year Biology student) for his first publication titled "Testosterone responses to competition predict decreased trust ratings of emotionally neutral faces" in the journal Psychoneuroendocrinology.
February 27th, 2014. Congrats to Ben Moreau for his first publication titled "Social neuroendocrinology: Functional role of testosterone dynamics". This work has been published in the book An Evolutionary Science of Human Behavior: An Interdisciplinary Approach.
February 24, 2014. The Laboratory of Social Neuroendocrinology published a paper titled "Testosterone rapidly increases neural reactivity to threat in healthy men: A novel two-step pharmacological challenge paradigm" in the journal Biological Psychiatry. A commentary was published alongside our paper highlighting the novelty of our experimental approach.
February 23, 2014. In a collaboration with colleagues at Duke University and Wayne State University, we published a paper in Psychological Science titled "Testosterone reactivity mediates the effect of early intervention on aggressive behavior".